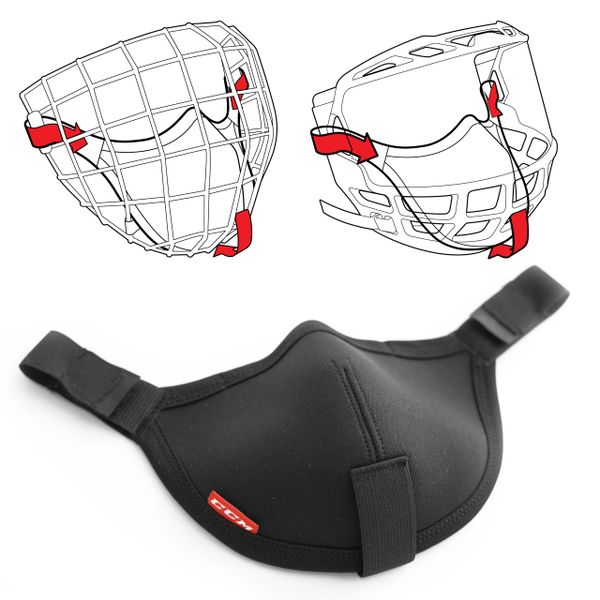 CCM Player Facemask
Three adjustable anchor points, fit, feel and visibility can be tailored to the player while ensuring the lower face is always covered.
DEADLINE:  The deadline for the order was Sept 1.  Orders placed after Sept 1st will be filled on a first-come first-serve basis until inventory is depleted.
SIZES:  CCM just announced that they're doing both a senior and a junior version of the player masks.  We will try to bring in some extras for those customers who ordered one size but need the other size.  We cannot guarantee we'll be able to make the exchange but if it's possible we will definitely try to help.
RISKS INVOLVED:  While I don't normally take this stand, I can't afford to bring in 500 masks and have either the season get cancelled or the mask mandate be dropped.  I am asking each player to thus assume the risk of paying $20.  ALL SALES ARE FINAL, REFUNDS WILL NOT BE ISSUED IF HOCKEY IS CANCELLED OR IF THE MASK MANDATE IS REMOVED.  I have reached out to the lady from the health department who issued the mandate to ask whether these masks would suffice in the health department's eyes.  Her reply was that it may not be perfect but that it would be an acceptable solution so we've gotten the thumbs up at this point.
DELIVERY:  CCM will ship them directly to the store on Oct 1st.  All orders will be available for In-Store pick-up at that point.
COST:  These will retail in the store at $20.   We will stock a very limited quantity so if you want one for sure, don't assume we'll have enough.  If these are the answer for players, I anticipate selling through our inventory quickly so pre-order is the way to guarantee you get one.