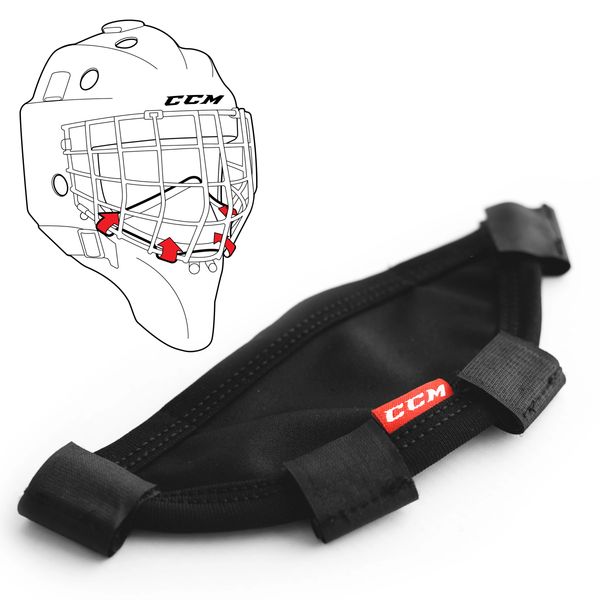 CCM Goalie Face Mask
Three adjustable anchor points, fit, feel and visibility can be tailored to the player while ensuring the lower face is always covered.
RISKS INVOLVED:  While I don't normally take this stand, I can't afford to bring in 500 masks and have either the season get cancelled or the mask mandate be dropped.  I am asking each player to thus assume the risk of paying $17.50.  ALL SALES ARE FINAL, REFUNDS WILL NOT BE ISSUED IF HOCKEY IS CANCELLED OR IF THE MASK MANDATE IS REMOVED.  I have reached out to the lady from the health department who issued the mandate to ask whether these masks would suffice in the health department's eyes.  She replied that she's working with her superior to decide whether these masks will be acceptable and said she would confirm asap.  If by chance she says that these masks are not sufficient prior to me placing the order with CCM (Aug 28th), this is the only reason we will issue a refund.
DEADLINE:  Deadline for placing your order will be Thursday, August 27th as my order needs to be submitted on the 28th. 
DELIVERY:  CCM will ship them directly to the store on Oct 1st.  Local players can select "in-store pick-up" and avoid any shipping costs.  If you'd prefer to have the product shipped to you, you can select that when checking out (10% shipping charge)
COST:  These will retail in the store at $20.  We are offering these on a pre-order basis at $17.50.  We will stock a very limited quantity so if you want one for sure, don't assume we'll have enough.  If these are the answer for players, I anticipate selling through our inventory quickly so pre-order is the way to guarantee you get one.